Curriculum
At Richard Bonington Primary and Nursery, we are committed to developing the whole child through our curriculum, which is based on the following values.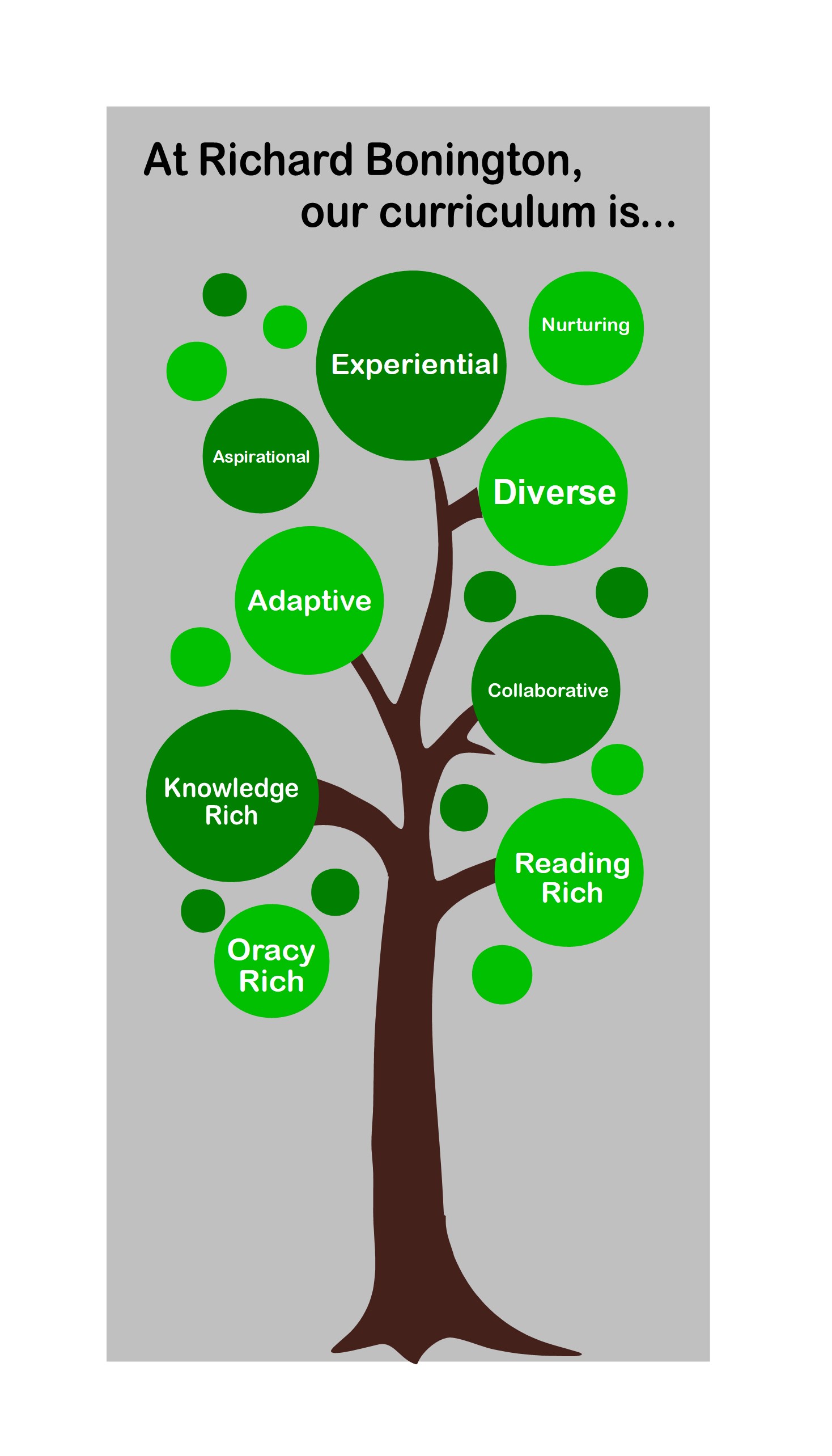 At Richard Bonington our curriculum is broad and balanced and is designed to meet the needs of our children. At the core is the National Curriculum which is enhanced by different opportunities and experiences. Our aim is to provide our children with the essential foundations for the next part of their educational journey and beyond. The specific curriculum content runs alongside the attitudes to learning that we believe are integral to becoming lifelong learners. We call these our 'Keys to success':
resilience
independent enquiry
team work
critical thinking
reflection.
These allow pupils to develop the confidence to 'have a go' without fear, make links, be curious, dig deeper into their knowledge and understanding and reflect on their choices.
Staff have created a sequential curriculum that highlights key knowledge and vocabulary in each subject, which is built on year on year, showing clear progression. Within our curriculum, most foundation subjects are taught discretely. Our lesson design is informed by educational research to ensure that we enable the children to know more and remember more. Rosenshine's Principles of Instruction are at the heart of teaching and learning at Richard Bonington, but we consider these in the context of the classroom and ensure that staff are focused on the theory of these at a deeper level. It's important that our sequence of learning incorporates these when and if necessary and that the focus is on the rationale behind the decisions we make in the classroom to ensure learning is remembered.
High quality relationships lie at the heart of our curriculum. Staff prioritise getting to know the children, adapting their teaching to suit each child, to both challenge and support. Spending time on developing these relationships ensures high standards of behaviour for learning across the school and ensures teachers meet the needs of all of their children.
As a school we place great value on oracy, encouraging children to extend their vocabulary. This starts right at the beginning of their educational journey in EYFS, with a strong focus on developing language through high quality interactions. During guided reading sessions children are taught new vocabulary and given the opportunities to use it regularly.
Reading is a priority at Richard Bonington – both getting the children reading as soon as possible using the Little Wandle programme, and fostering a lifelong love of reading.
Maths teaching follows a mastery approach using White Rose, where there are high expectations of all children, regardless of attainment.
Widening our children's experiences and knowledge of the world is key at Richard Bonington, ensuring that each child has the opportunity for rich and fulfilling experiences. Visits and residentials are embedded in our curriculum offer, making full use of our local area and encouraging children to become invested in their community. These opportunities cover a wide range of experiences, including museums, education centres and visiting the countryside. Residential visits take place from in Years 2, 4 and 6, giving the children a range of experiences and opportunities to develop self-confidence, independence and social skills.
Extracurricular activities take place throughout the year. We offer a wide range of inclusive sporting clubs, as well as competitive sports. There are also a range of non-sporting clubs, such as choirs, story club and origami. We wish to develop children who are respectful of our environment and promote our eco club and eco values in school. We teach the children in our care to be active in the life of our school with our school council, prefects and champions.
Community partnerships are an important part of our curriculum. Visitors and families are invited into school to facilitate learning new skills and experiences, as well as to celebrate learning achievements.